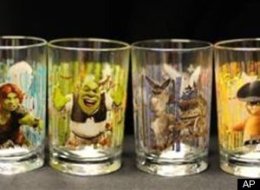 In the US, mc Donalds are recalling their Shrek Edition Glasses. According to U.S. Consumer Product Safety Commission the painted glasses has toxic element cadmium.
Mc Donald's will be recalling aroung 12Million Glasses.
The 16-ounce glasses, being sold for about $2 each as part of a promotional campaign for the movie "Shrek Forever After," were available in four designs depicting the characters Shrek, Princess Fiona, Puss in Boots and Donkey
In the Philippines where SHREK also had a happy meal version but not with glasses. We have here the Shrek Collectible toys. Yesterday I bought my two girls a happy meal. Shrek is sold out so we decided to get donkey and Gingy. It's nice because a part of the toy when out together makes it speak. Brilliant and amazing on the eyes of my kids.