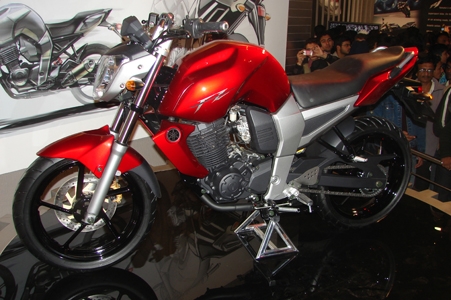 Before I proceed scrutinizing this Yamaha FZ 16, I would like first to read along with me the Specs of this New Yamaha Bike.
Yamaha FZ 16 Suspension Specifications:
Suspension (front/rear) Telescopic / Monocross
Wheelbase 1,335mm
Brake type(front/rear) Hydraulic single disc / drum
The Engine looks something like this:
Engine type Air-cooled, 4-stroke, SOHC, 2-valve
Displacement 153.0cm3
Bore & Stroke 58.0 × 57.9mm
Starting method Electric starter
Lubrication type Wet sump
Carburetor type BS26
Clutch type : Constant mesh wet multiplate
Ignition type: CDI
Transmission type Return type 5-speed
Fuel Guage: Digital
Tacho Meter: Digital
Trip Meter: Digital
Speedometer: Digital
Low Fuel & Oil Indicator: Available in LED
Alloys: Yes, Light Weight (silver in Colour)
Equipped with a 150 cc bike the Yamaha FZ 16 is a head turner. The mono shock speeding big-bike alike was unveiled a price of Php140,000. Lets find out if it is worth it.
Before the dawn of the King of underbone and Motards, It was Yamaha again who conceptualize and bring forth the glory of a more muscled and big bike look motorcycles. Unlike the Honda's CB110 that are underated with its performance and poor power to weight ratio. It was then Yamaha introduce their newest model in line. The FZ16 handles the curves smoothly, thanks to its mono shock design and stable front telescopic. Not to mention is the Bikers stance position. Although it weights 137kgs. I recommend it riding with a bike on solo.The seating makes it a little difficult for ladies to hop on to the bike. Bottom line, your girl friend needs to start maintaining herself if you want to take her on a long ride on this bike, else you will have a terrible back pain to complain about instead of bragging about the good time that you had.
Yamaha FZ 16 – Speed
The FZ 16 takes the road from 0-60 Kph in 5.60 seconds which is the best in its class and 0-100 Kph in 18.65 seconds, you've got to ride it to believe it. For the Quarter mile sprint you will be able to finish in 20.10secs with a terminal speed of 101.36kph. According to Zigwheels who tested the bike it gains a topspeed of 112.34 kph.
With regards to the Fuel consumptions of this 150cc bike. I think its the best in its class. Looking at the figurers, it averages for a full tank of gasoline a 723.84kms. That is a way very very nice fuel consumptions. Per liter consumption if you are driving in town we get 58.33 km/l and on a highway a whooping 66.32 km/l.
The front and back tires add up to the look of the bike with a 100/80-17 and 140/60-R17 respectively. The front headlamp could have been remodelled to look a little better, now it looks more like a Hero Honda CBZ head lamp fixed on the Yamaha.
Need to know more? Asked here in the comments below.